Cyber Sites in Haute Savoie

---

Alp-Link This brand-new site links hotels, restaurants, bars, discothèques as well various places of interest in the entire Alpine region, from Switzerland to the Mediterranean coast. Alp-Link creates web sites for small businesses at reasonable cost. Alp-Link hosts the SERVEUR SAVOIE.




Cyberaccess, internet access provider, purveyor of full web services: creation, design, updating, and posting of web pages for the Annecy region and for the whole world!



LdL Computer Services in Faverges offers a broad range of programming services, from site and need analysis to the realisation of tailor-made computer applications, creation of websites, training sessions... All you have to do is ask, you will receive the advice you need! Contact Louis de Lacroix.




Silicone offers numerous professional services, from management to the creation and hosting of web sites. See also the partner site of Algorithme. It is Algorithme which created the beautiful web sites for some of the most prestigious hotels and restaurants in the Lake Annecy area.




Web-Avenue is a web creation and hosting service with design bureau. They specialize in the creation of websites, from presentation pages to catalogues. Web-Avenue is located in downtown Annecy.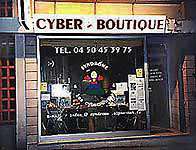 Whether you are Savoyard or a visitor just passing though, come to Annecy's new cyber-café to learn how to "surf the web", get the latest news, or simply to pick your your e-mail when you are far from home. In an agreeable atmosphere, with state-of-the-art computers, you will be able to meet other fans of the Internet who will gladly share their experience or give you the advice you may need...

Syndrome, cyber-café for the "Syndronautes" !




---
Page and images © 1996, 1999 by Robert F. Jeantet
Latest update, March 25, 1999