SAVOIE - Geography
---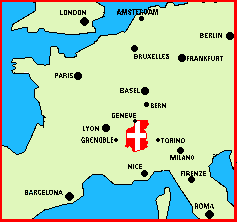 Savoie is the name of an old country annexed by France in 1860. The traditional frontiers of Savoie have not changed since the annexation: Savoie lies East of France, West of Italy, and South of Switzerland and Lake Geneva, at the crossroads of the Alps. Savoie measures approximately 100km (60 miles) across, and 150km (90 miles) North to South. The nearest international airports are in Geneva, just across the border from northern Haute Savoie; Lyon, some one hundred miles to the west, and Milan, in Italy, across the Alps to the east.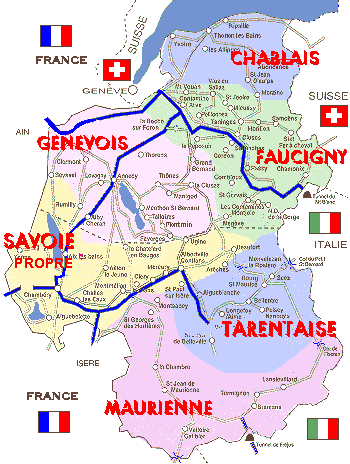 The former country of Savoie, whose six traditional provinces are shown in the map at left, is now divided into two French départements (states) called Savoie and Haute Savoie. Savoie, long an independent nation, is now part of the nation-state of France, though some regionalists have as a goal the separation of Savoie from modern France.
The tallest mountain of the Alps, Mt. Blanc, is in Haute Savoie, as are the popular resorts of Chamonix, Courchevel, Megève, and St Gervais, among others. The Olympic city of Albertville, the old royal capital of Chambéry and the Abbey of Hautecombe are in the much more agricultural département of Savoie, which produces excellent white wines.

Savoie and Haute Savoie are well known for their ski resorts, but also for their beautiful lakes, (Lac du Bourget, Lac d'Annecy, Lac d'Aiguebelette), which attract huge numbers of summer vacationers.
The city of Annecy, with its lovely canals, "Vieille Ville" (Old City) and hilltop castle, is considered to be one of the most beautiful cities in Europe; it hosts an international festival of animated films (every other year, in May), as well as a huge fireworks display (La Fête du Lac, in August). In addition, the old section of the city is filled with restaurants that prepare the reknowned cuisine of the region. It is a very popular destination for tourists from around the world.
end of page